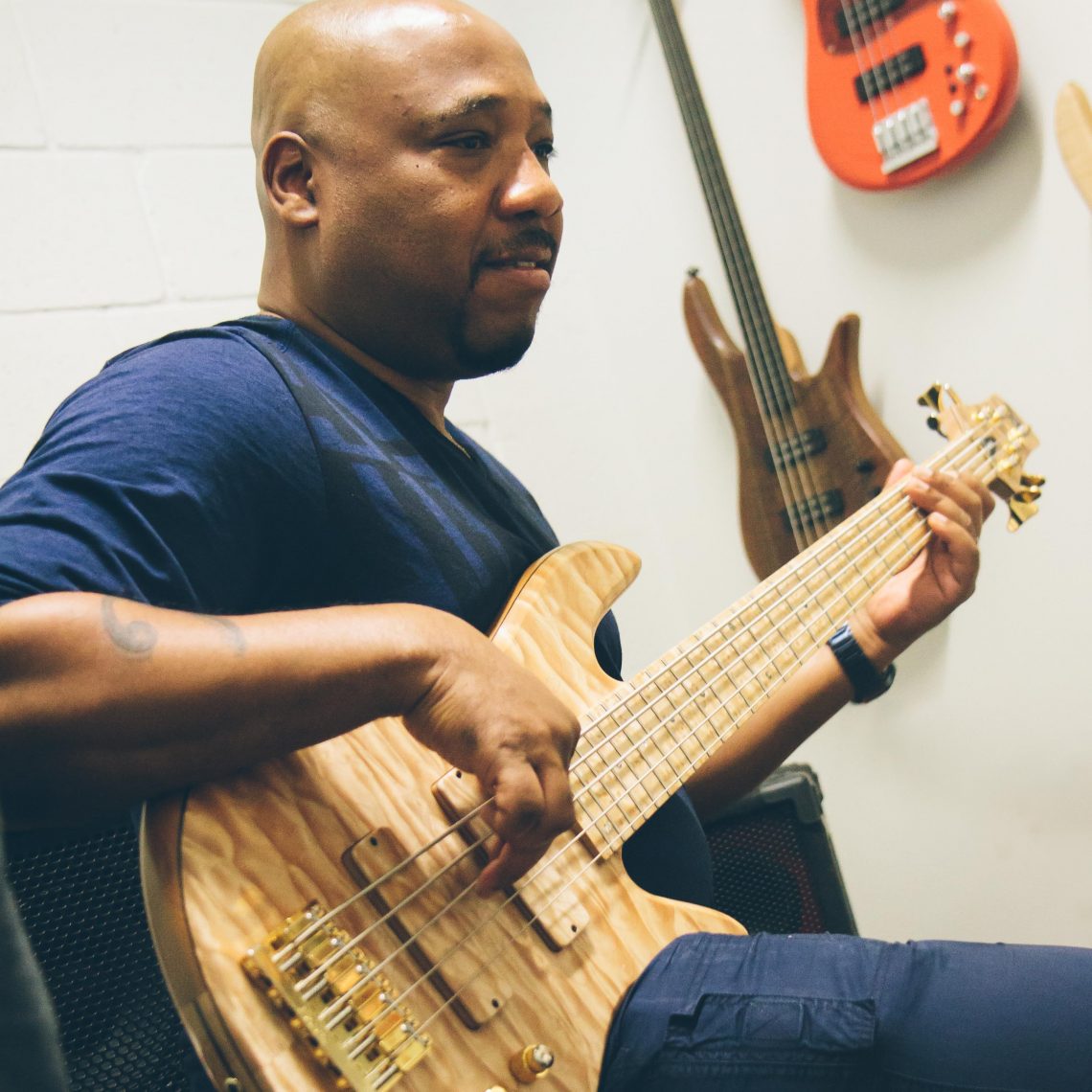 Fodera artist Artie Reynolds historically has kept a low profile in the bass world yet for over 30 years has provided the deep grooves and low-end behind artists such as Alicia Keys, Mariah Carey, Justin Bieber, Bobby Womack and Jonathan Butler (to name a few). Additionally, his playing is heard by millions across the country first, as the house bassist for American Idol and now on the hit TV show Dancing With The Stars. Born and raised in New York, Artie continues to work with a variety of artists from a wide range of musical genres pulling from a rich musical upbringing. From Jazz to Hip Hop, R&B to Gospel, Artie has done it all. Equally at home in any situation his background experience includes just about everything out there from concert stage and television, live radio concerts, festivals and stadium/arena touring, night clubs and jazz venues, recording sessions, and even Broadway! As American Idol musical director Ray Chew said, "Artie is an amazing player…he not only has the incredible range we need from the bass chair, he knows when to bring the fire and when to bring the sensitivity. He's low key and a true professional. It's a joy to have him on the team." Former Idol judge Randy Jackson adds, "Artie is just an unbelievable bass player; dude, he's the real deal. I always have an ear on him. Idol is the greatest show and he's one of the unsung reasons why it stays great."
In our interview, Artie shares with us some of his biggest musical influences and what are some of the key qualities bass players need to be successful for both live and studio applications.
Click here to check out the Artie Reynolds Signature Emperor
Tell us a little bit about your musical background and how you came to play the bass guitar.
Well I actually started on trumpet in my youth besides the obvious "recorder", lol. My Dad is a singer/entertainer who played guitar as well so he used to let me play around on his guitar from time to time, show me a few basic chords. I started getting into bass in junior high circa 7th grade. I used to borrow my neighbor's bass all the time (ha had a lil pawn shop Fender copy or something. One day I heard his dad yelling at him…'Stop letting that boy borrow your bass!". After that I kept asking my dad for a bass BUT it was my MOM who got mad at my Dad and yelled at HIM to buy me a bass!! Hahah, go Mom!
Who were some of your biggest musical influences and what were your take-aways from them?
That's always a simple question but a complex answer 'cause I have so many influences and bass hero's it's hard to pick just a few. Of course the usual suspects but I have to say it was Verdine White and the EW&F Gratitude record that made me say…imma play bass! Loved his feel and aggressive R&B style and live performance energy. It was Earth Wind and Fire or nuthin'! Even with the great Larry Graham I liked the sound but it wasn't for me. I was a "fingers only" man. That was until The Brothers Johnson Look Out For Number 1! Louis Johnson made me start "thumbing" as we called it then. Of course Stanley Clarke changed the game, Jaco, Bootsy Collins,  Jameson, etc.. Loved Jimmy Haslip, Yellow Jackets. On and on. Oh and I am a  Marcus Miller fan boy.
What do you find is the greatest challenge about being a bass player for live tv?
Accuracy!! Focus! You can't make a mistake. Wrong notes and tv don't mix. They live on forever, especially on the internet. It doesn't help to be one of the loudest sounds in the mix!!
Compared to American Idol what new challenges or experiences has Dancing With The Stars presented? When playing covers on live tv, how much creative interpretation do you or can you allow yourself?

With Idol, the concept is basically singing artists. As we replay all the music you can add a little more of yourself to the music and it is not detrimental. Also, we did the album sessions generally so it was our tracks we replayed live. With dancers and DWTS, it's about total recreation of someone else's musical ideas. From the original music, dancers pay attention to the smallest of details. A lick or figure we hear as just a fill, they may have actually choreographed to it , so it MUST be there exactly the same, every time, without alteration, without question. Also they rehearse to original music until they meet up with us so I must reproduce bass sounds sonically, whatever that may be. I have to know when I hear a song, is that Nexus or Arturia, Serum or Kontact? Real upright or Trillion? Oh that was a Fender P-bass going through an Ampeg B15, oh that sounds like an Music man ran through a transient shaper bit crusher with a gated 20hz freq side chained under it…etc etc! YIKES!!
In your line of work, you often hop between keyboard bass and electric bass. Is that because of a specific tonal need? What's the dynamic like switching between both instruments?
Oh yes absolutely! There are some songs that are recorded originally on synth that just can't be played on electric bass and sound the same. They just won't. You can run track in dress shoes but it won't be the same lol. I love music so I'm not arrogant enough to think everything would sound better on electric bass anyway. As some songs made for electric bass or upright just won't make it on synth. I won't play a swing tune on synth and won't play a Super Saw tune on fretless!
What's the biggest difference in your opinion between playing bass on a session vs live tv? Are their more similarities for you than differences?
A session (although time is always money) is much more relaxed. Also as I eluded to earlier, on a session you are basically hired to use YOUR style and musicianship to bring to life the writer and producers vision. They want your style thus that's why they hire who they want. On THIS show, or shows of this type, you are essentially hired to use all of your musicianship to reproduce with authenticity whatever music they choose. It's a different skill set. I have to know what makes Jamerson sound like Jamerson then on the next song what makes Ray Brown sound like Ray Brown, Joe Osborn on a Nashville track, what makes Bernie Worrel sound like he does on Moog, etc. It is NOT easy-you gotta love everything!
What are some key attributes young players need to know about entering into the kind of career you're in? The keys to success if you will. 
Listen to everything and respect it all. I can't tell you how many guys say "I don't like this, I don't like that..I just play this or that". That's crap. If you ever watched classic cartoons you like Classical and Jazz. If you ever watched a movie then you like modern orchestral music. The radio is obvious. Practice your reading, it IS important. You can't rely on memorizing every chart, every bumper, every rejoin, with all the changes they may develope. Gotta take notes and read it.
Up till now, what are two of the most significant musical highlights in your career? 
So many memorable moments I am grateful for. At this moment what comes to mind are:

1- Playing the Democratic National Convention and the Presidential Inauguration Party for the then newly elected, President Barak Obama.

2- The very first time I played Madison Square Garden. I remember going into the house seats after soundcheck and I just marveled and prayed thanks.
Tell us a little about your signature bass. How did you end up with its design / features?
Man I love this bass! I first saw a Fodera (w/ a Flamed Maple top) at NAMM. I played it and fell in love. I coveted  Fodera Basses for a year! When I joined the family and MY beauty was made I chose the wood and neck but Vinny did all the rest! I was actually blown away when I first laid eyes on it and how gorgeous it was. Down the road we carved the neck a little thinner in the back and modified the pickup placement to a 70's Jazz Bass position. I wanted that 70's Jazz sound but have it go to eleven so the switchable single/dual coil design was added later to give me even more flexibility. I told Joey and Vin I had to have one bass that would cover all styles and be versatile enough to give me any sound. They built exactly that! For example…I find Fender Precisions have a thickness in the 7th & 10th positions that many new basses do NOT have. That's why those classic songs sound thick even playing in those positions. The Jazz bass (& most contemporary basses) have a top end clarity that precisions don't. That's why the slapping sounds so sharp and cuts cleaner than slapping on a Precision. A lot of contemporary basses sound thin up top, almost guitar like or to quote my boy Poogie Bell, "science project basses"! My Foderas however are clean and articulate like a Jazz Bass yet still have the depth and body of a P-Bass. They don't thin up the neck so playing 7th & 10th positions and higher never gets lost and the sound is even everywhere. I never use a compressor personally and I always go direct and can play anything from Motown to classic Funk, Gospel to Nashville without having to switch to different basses.  The sound is always there in your face. I get mad compliments from recording engineers and they all say the same thing! "Dude…I don't have to do ANYTHING to your bass and it sounds killer!".
Who are some artists that you currently listen to and have been enjoying?
Work always dictates who and what I have to learn. But I will say I have all of Marcus Millers' records and all of Vic Wooten's. I listen to a lot of different things.
What are 4 of the most influential albums to you? 
1- Earth Wind And Fire – Gratitude

2- Stanley Clarke – School Days (self titled album as well)

3- Jaco Pastorious -Jaco (also Weather Report- Heavy Weather)

4- Tie between : The Brothers Johnson – Look Out For #1, The Jeff Lobber Fusion – Wizard Island, Bootsy's Rubber Band – Ah The Name Is Bootsy Baby

Now I can name a lot more from Jazz to Hip Hop but those are the four that I wore out the most playing along to when growing up! I gotta mention though that within the last few years my top 2 are definitely 1-Marcus Miller – The Sun Don't Lie 2-Victor Wooten – What Did He say?
Who is one bucket list artist you would like to play bass behind and why? 
Well, to be honest, I have been so blessed to play with and for so many artists so I don't really have a bucket list artist at this time. A lot of my bucket list artists I have been blessed to play with…Stevie Wonder to Gladys Knight, Yolanda Adams to Donnie McClurkin. etc. Oh wait!! My hero, Mr. Quincey Jones! would love love love to play with him!