Guitars

Established in 1983, Fodera Guitars has grown to be one of the world's leading makers of handcrafted custom bass guitars. What most people do not know is that our premier instrument ,was, in fact a Monarch electric guitar. While our basses have been the hallmark of our company, our co-founder Vinny Fodera is in fact an electric guitar player. Headquarted in Brooklyn, NY, Fodera's team of luthiers combine over 30 years of innovative design, building, and real world playing experience to handcraft custom electric guitars suited for your individual playing style and working needs. From exotic wood combinations to custom color finishs and pickguards, to custom neck profiles and fret / scale combinations, the possibilities are endless for your custom guitar. Using the same materials and crafted by the same men and women as our custom bass line, our Fodera Electric Guitars are custom-tailored for you to offer a lifetime of playing enjoyment.
Our Electric Guitars are offered in three distinct body styles: Imperial, Monarch, and Emperor style bodies.
In addition our Custom Guitars are available in three unique neck joints: Bolt-On, Dovetail, and Neckthrough. (Note: Our Imperial Guitar is only available in our Dovetail or Neckthrough options)
---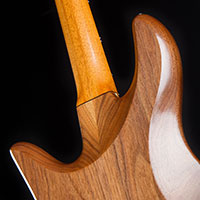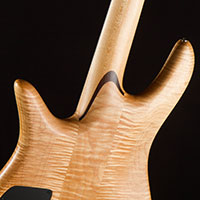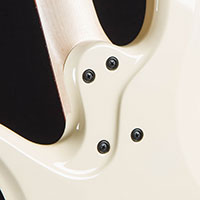 Our Custom Guitars are available in any style pickup configuration from companies such as Seymour Duncan, EMG, and Lindy Fralin. All of our guitars come standard with Passive electronics with the option of upgrading to our custom Pope/Fodera 3-Band Preamp.
Every Fodera Electric Guitar is crafted using the finest tone woods available from our vast wood library. In addition to classic body woods such as Alder, Ash, and Walnut, exotic hardwoods such as Korina, Mahogany, and Black Limba are also available. Our guitars can be topped with beautifully figured exotic wood (view some examples by visiting our topwood gallery) or in classic retro colors such as those from our Standard Classic series.

To get a glimpse into how our instruments are crafted, follow us on Instagram for daily pictures from the shop!
Curious about what your Custom Guitar might be? Contact us as info@fodera.com and you will work with us and our team to help bring your guitar vision to life.